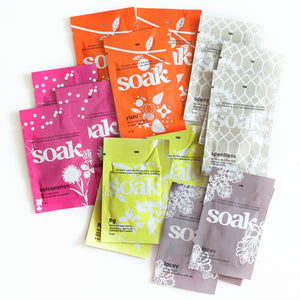 Soak Mini-Poaches
Single Use Poaches 
Soak is the new and improved way of washing your all your clothing. From laces to knits to activewear, this product to is made to safely clean and keep anew all your laundry! Multiple scents available! All you have to do is soak. 
Can also be used with machine washing, hand washing, and spot-cleaning  
Biodegradable, dye-free, sulfate-free, and phosphate-free
Travel size great for vacations 
How to Use - Hand-wash: Mix 1 teaspoon of soak with 1 gallon of cool water. Let sit for 15 minutes. Gently squeeze, and no rinse required. Wash like fabrics and colors together, sets included! (Always make sure to test the product with fabrics for color-fastness.)
Extra tip! Soak is also great for cleaning hair and makeup brushes, sponges and more!